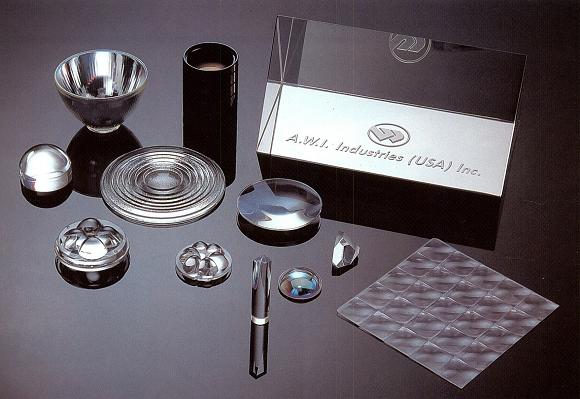 A.W.I. Industries (USA) Inc. was established in the city of Corona, California, USA in 1989. AWI is a member company of the Wise Group of Companies (WISE) in Hong Kong. Each member company within the Wise Group of Companies involves in the manufacturing and distribution of one or more types of products. These products include:
Glass and plastic optical components for optoelectronics, communications, aerospace, medical lighting industries.
Plastic consumer products for original equipment manufacturers (OEMs).
Plastic injection molds and tooling for various industries.
Cable ties and price tag pins for the electronics and garment industries.
Products produced by AWI and the Wise Group of Companies are sold to customers located in North America, South America, Australia, Europe and Asia. In October 2004, AWI moved into its own newly built 7000 square-foot (650 square meter) office/warehouse building in the city of Chino, California. (Map of AWI )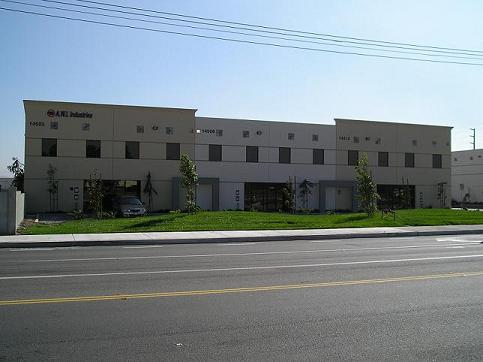 The Wise Group of Companies' main manufacturing plants are located in Dongguan, China, an industrial town located 75 miles (120 km) north of Hong Kong in the Guangdong Province. Our factories are ISO9000, ISO 9001, ISO 9002 and UL certified as well as CE listed. The Wise Group of Companies has five industrial buildings in China with a total manufacturing area of approximately 500,000 square feet (46451 sqaure meter) and a work force of approximately 1,000 employees. In October 22, 2005, a member company of the Wise Group of Companies, Wise Industrial Company Limited moved into its own newly built 250,000 square feet (23225 square meter) factory building in Dougguan, China. Wise Industrial Co. Ltd also built a dormitory of 60,000 square feet (5574 square meter) for its staff and workers within walking distance inside the gated industrial complex.
AWI in Chino, California is an engineering and marketing firm. We supply various kinds of optical components and lens assemblies for various industries in US, Canada, Australia, Asia and Europe. These industries include telecommunications, lighting, industrial controls, medical, photographic, industrial laser, aerospace and optoelectronics. In addition, AWI also supplies plastic injection molds, plastic parts and plastic products made of engineering plastics resins. Furthermore, with the support from the team of engineering staff at the Wise Group of Companies in China and the technical staff at AWI in Chino, California, AWI can develop and manufacture consumer products from customers' simple ideas and concepts and turn them into competitively priced finished products marketable in the global market.
AWI and the Wise Group of Companies also have associate companies located in Japan, Korea and Taiwan with optics, electronics and production capabilities. Currently, AWI supplies the following products manufactured by the Wise Group of Companies in China and by our associate companies in the Far East:
CCD/CMOS camera lens assemblies and projection lens assemblies.
Polished spherical and aspheric lenses made of optical glass material, sapphire, spinel, ruby, zinc selenide, zinc sulfide, calcium fluoride, cubic zirconia, fused silica etc.
Precision pressed or molded micro aspheric lenses and lens arrays.
Ball lenses, half ball lenses, hyper-hemispheric ball lenses and various types of micro lenses made of optical glass, sapphire, spinel, ruby, cubic zirconia and fused silica etc.
Various types and sizes of prisms, windows and corner cubes.
Rod lenses, cone lens, ring lens, and drum lens.
Cylindrical lenses and toroidal lenses.
Molded glass and electroformed metal elliptical, spherical and parabolic reflectors. We also supply diamond turned metal reflectors for special applications.
Infrared absorbing filters and other application specific filters.
Precision molded or ground and polished glass aspheric lenses.
Plastic optics, plastic lens arrays and plastic Fresnel lenses.
Laser modules and laser related products.
Plastic injection molds and injection molded plastic parts.
Plastic and electronic consumer products.
On January 29, 2008, A.W.I Industries (USA) Inc. had obtained certification as a certified Small Business with the State of California, Department of General Services, Office of Small Business and Disabled Veteran Business Enterprise (DVBE) Services (reference number 0051847). This certification entitles AWI to have preference under the state's Small Business Participation Program with state contracting, including bidding preferences and special provisions under the Prompt Payment Act.
AWI Industries (USA) Inc.
14502 Central Ave.,
Chino, CA 91710
USA
Tel: (909) 597-0808
Fax:(909) 597-0082
info@awi-industries.com
www.awi-industries.com
We gladly accept the following credit cards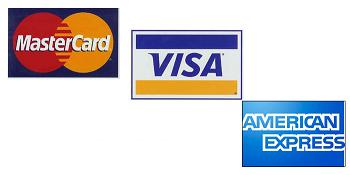 Home Optics Lasers Electronics NightStar Contact us
copyright ©
A.W.I. Industries (USA) Inc
Version 3.7
Designed by BCY